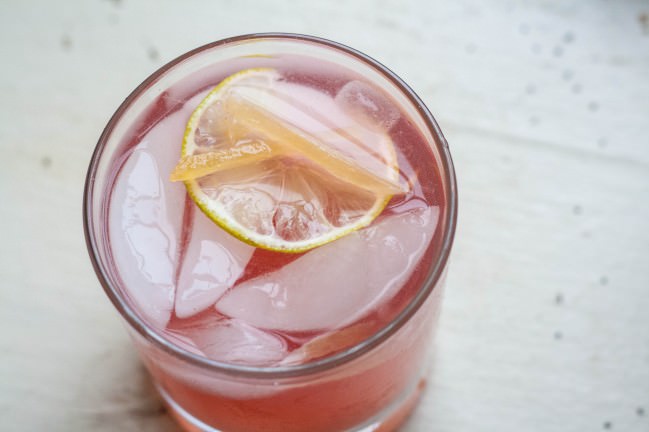 With all of the busy Thanksgiving posting and leftover making, I haven't shared a cocktail in awhile. Over the holidays, as I hosted several delightful pregnant women, I was reminded of something. Did you know that you can make drinks without alcohol in them? Shocking, I know. But I haven't posted a mocktail. Ever, it seems. It stems back to my no liquid calories that aren't booze rule. But sometimes you have a party and there are people there that don't drink. And then it's really rude to dig to the back of your fridge and look for a really old soda that's hopefully still sealed or some milk that's past the expiration date. Or to begrudgingly pour them some of the mixers that are meant for the real drinks. No, we must rise and be the hosts we know ourselves to be this holiday season. We must make fabulous and spritzy beverages for all. All kidding aside, I almost always make an alcohol free version of my cocktails for parties. And this one's fun- the chili and the ginger give it a little kick.
1 part spicy ginger simple syrup
½ part cranberry juice
½ part lime juice
1 drop vanilla extract
2 parts seltzer
paper thin lime rounds and strips of candied ginger for garnish
spicy ginger simple syrup:
1 thai chili or jalapeno
2 inch piece of ginger root; grated
zest of 1 lime
1 cup water
1 cup sugar
Bring to a boil. Turn off the burner. Let cool. Strain into a glass jar.
In a pitcher if you're making many, or a glass if you're making one, combine the simple syrup, cranberry, lime, juice and vanilla. Top with the seltzer. Pour over ice. Garnish with a lime slice and some candied ginger. If you don't like the pink, leave out the cranberry. It's great both ways. And if you're currently adhering to the no liquid calories unless there's booze rule, don't worry, this one goes great with rum or whiskey. Just add 1- 2 ounces per cocktail. Come to think of it, I didn't test it with gin or vodka, but I'm sure that would be great too. Happy Holiday parties my friends.
Tweet