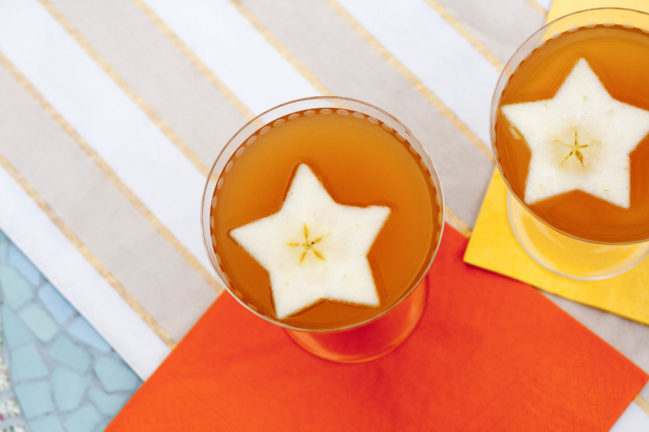 This year, this Apple Cider Margarita has been my drink of choice, especially when I'm entertaining. I've made it for almost everyone I know at this point, which means, that after a whole season of pours and tweaks it's finally time to measure it out, write it down and share my Apple Cider Margarita with you. There are a few twists and turns in my Apple Cider Margarita that admittedly bring into question naming this lovely fall cocktail after the margarita at all. But because of the lime juice and the tequila, and because it's just so tasty, I feel confident that no matter you call it, guests are going to accept the glass graciously and then praise it genuinely. I add a little bit of the Italian bitter Cynar, to give the cocktail some extra depth, but there's no need to wait to make my Apple Cider Margarita if you don't have any on hand. I assure you that you'll love this cocktail equally well with and without the bitter oomph, and of course, you could always add a dash of any bitters that you do have on hand instead. The striking garnish adds a festive quality that bridges the gap from fall into winter and I can't take credit for thinking to cut the apple slice into a star shape. One of my enthusiastic guests came up with that clever notion. I love the look for holiday parties and I bet you'll see some other shapes pop up now and then. Another fabulous trait of this gorgeous fall drink? You don't need to wait for cocktail hour to whip up a batch. I've been serving these beauties with chilaquiles for brunch this fall. Who would have thought my Apple Cider Margarita would be fall's most versatile drink?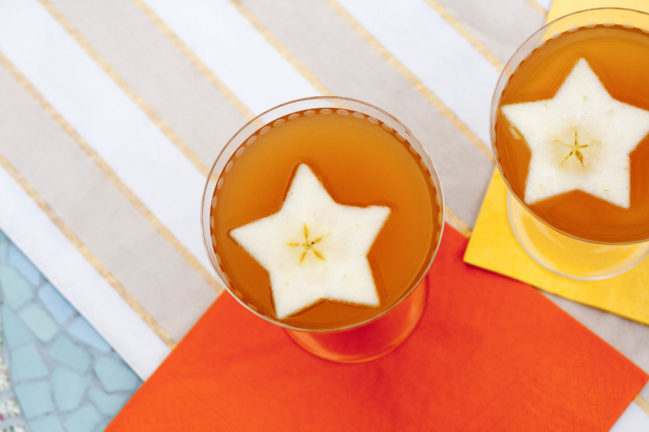 Apple Cider Margarita
2016-12-08 19:28:28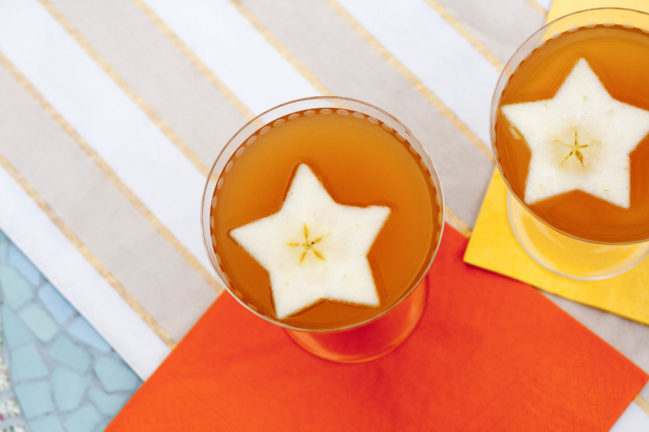 Serves 8
This sweet, tart, rich, complex take on the Apple Cider Margarita has a little something for everyone and it's perfect for drinking all fall and winter.
Nutrition Facts
Amount Per Serving
* Percent Daily Values are based on a 2,000 calorie diet. Your Daily Values may be higher or lower depending on your calorie needs.
Ingredients
16 ounces apple cider
8 ounces tequila
6 ounces apple brandy (Calvados)
2 ounces triple sec
1+ ounces Cynar (optional)
4 ounces fresh lime juice
6- 12 ounces cup lime club soda/seltzer (plain is fine too)*
granny smith apples for garnish
ice
Instructions
In a pitcher all of the liquors and the lime juice. Keep it in the fridge until you're ready to serve. Add the seltzer. Serve over ice. Cut thin rounds of apple and then stamp out stars using a cookie cutter.
Here, you can really see the beautiful apple slice. I love it with the halved cranberries, too. So gorgeous and festive- perfect for this time of year.
Notes
*Add the seltzer to taste. If you like a weaker cocktail, you can add more.
Dirty Laundry Kitchen http://www.dirtylaundrykitchen.com/