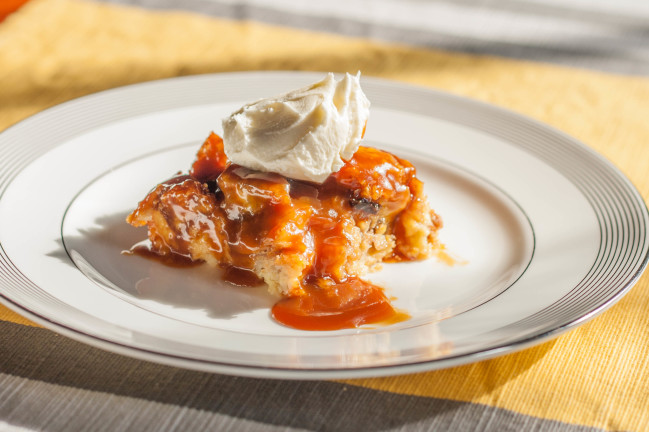 Happy almost Mardi Gras friends, have I ever got a recipe for you in this Banana Foster Brioche Bread Pudding. While it's based on a bon appetit recipe, I have made some serious modifications to this Banana Foster Brioche Bread Pudding to make it more user friendly, as well as to make it fit in the pan. I have no clue how the original recipe ever fit this in an 8×8. It's simply impossible, at least in my house! Maybe the pan they used was a foot deep? And then I don't know how you'd eat a whole piece of this Banana Foster Brioche Bread Pudding at all, because it's SUPER rich, which is also probably why it remains one of the best desserts I've ever had and on my now and then list. When you cook as often as I do, there aren't that many dishes that have you coming back, again and again. It's always onto the next new thing, you know? But this Banana Foster Brioche Bread Pudding is so special, and so satisfying that I remember it each year when the Crawfish Boil rolls around, it's Mari Gras, or a Cajun emergency pops up, like a very favorite guest from Cajun country comes to town. What? You'd be surprised how often that happens to me. Thank goodness I have my amazing Banana Foster Brioche Bread Pudding recipe in my back pocket, ready to go. You're gonna get a lot of compliments on this one, I assure you.
Here's a montage of the first few steps for you: toasted cubes of bread, whipping the eggs, diced bananas, and the carameled banana pieces.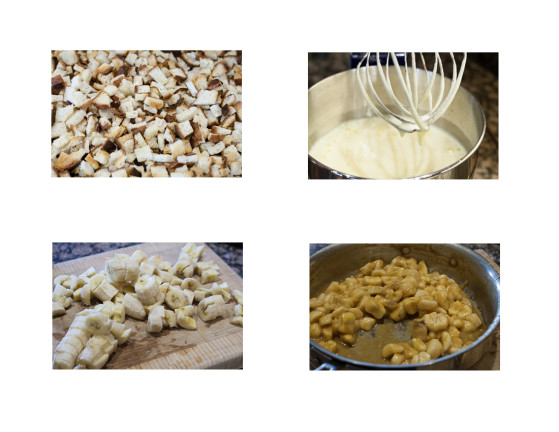 And here's the home stretch of the finished product: caramel sauce, baked bread pudding, and the sauce covered bread pudding.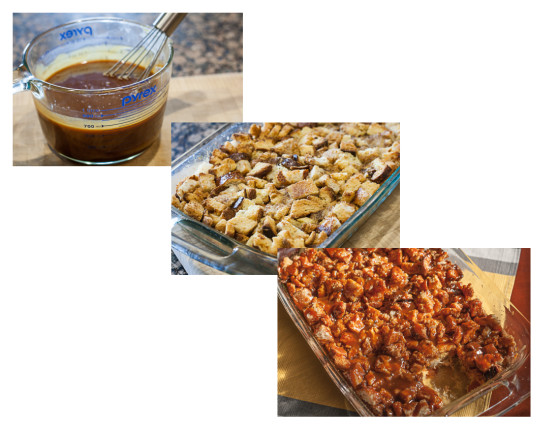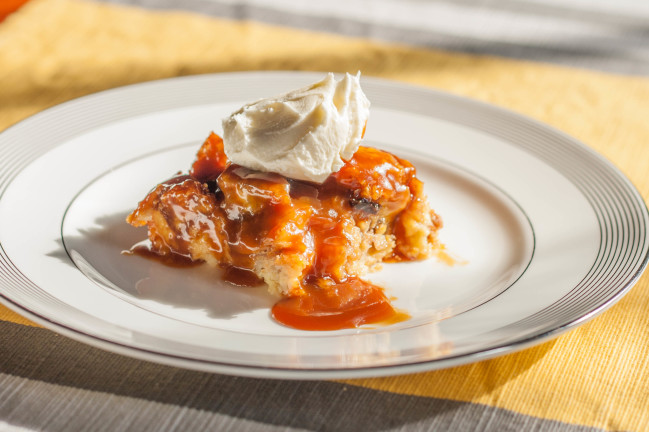 Bananas Foster Brioche Bread Pudding
2016-02-04 08:38:15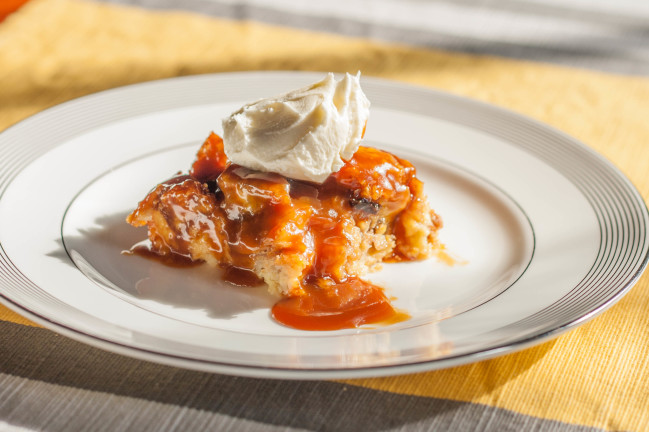 Serves 12
Banana Foster Brioche Bread Pudding is rich and delicious dessert for Mardi Gras, a Crawfish Boil, or any time you want to see guests lick their plates.
Nutrition Facts
Amount Per Serving
* Percent Daily Values are based on a 2,000 calorie diet. Your Daily Values may be higher or lower depending on your calorie needs.
bread pudding
7 cups ¾-inch cubes brioche (from 1-pound loaf)
6 large eggs
¾ cup sugar
⅛ teaspoon plus ¼ teaspoon sea salt
1 ½ cups heavy whipping cream
1 ½ cups half and half
1 teaspoon vanilla extract
3 tablespoons unsalted butter
2 tablespoons dark rum
2 tablespoons+ fresh lemon juice
5 medium just-ripe bananas
caramel sauce
2 cups granulated sugar
1 ¼ cups heavy whipping cream, divided
¼ cup dark rum
½ teaspoon sea salt
1 tablespoon unsalted butter
crème fraîche for serving
Instructions
Spread sugar evenly in large nonstick skillet. Cook over medium-high heat without stirring until sugar begins to melt and caramelize on bottom (sugar layer will slide when skillet is tilted), then stir until all sugar is melted and deep amber and caramel is smooth, 3 to 4 minutes.
Add 1 cup cream, rum, and ¼ teaspoon salt (some clumps will form). Stir until caramel is thick and smooth, about 1 minute.
Mix in remaining ¼ cup cream.
Remove from heat and add butter; stir until sauce is thick and smooth, about 1 minute. Remove to a bowl or 1 quart measuring bowl to cool and reserve the caramel pan for the bananas.
Preheat oven to 350° F. Spread bread cubes out on rimmed baking sheet. Toast until beginning to feel dry but not hard, about 7 minutes. Cool on sheet.
Whisk eggs, ¾ cup sugar, and ⅛ teaspoon salt in large bowl to blend.
Bring cream and half and half to simmer in medium saucepan. Very gradually whisk cream mixture into egg mixture.
Pour custard into a medium bowl and mix in vanilla. Cool to lukewarm (30 minutes).
Peel the bananas and cut lengthwise in half. Then cut into small pieces.
In the same pan you made the caramel sauce, whisk brown sugar and butter over medium-high heat until smooth sauce forms (1 minute). Whisk in rum, lemon juice, and ¼ teaspoon salt.
Add bananas and toss just until coated, about 30 seconds. Remove from heat.
Lightly butter 13x9x2-inch baking pan. Scatter ½ of bread in dish.
Top with half of bananas and half of syrup from skillet.
Scatter the remaining bread over.
Top with remaining bananas and syrup from skillet.
Pour custard over. Press down on the bread from time to time to ensure the custard is fully absorbed while you preheat oven to 350° F.
Cover the bread pudding with foil. Bake pudding 25 minutes.
Uncover and bake until puffed and set in center, about 20 minutes longer.
Top with caramel sauce.
Serve warm or at room temperature on its own, or with a dallop of crème fraîche, whipped cream, or ice cream. I personally like the tartness of crème fraîche.
Notes
Easy to make ahead. Just refrigerate until you're ready to serve. Reheats well, or just bring it to room temperature.
Adapted from Bon appetit
Dirty Laundry Kitchen http://www.dirtylaundrykitchen.com/