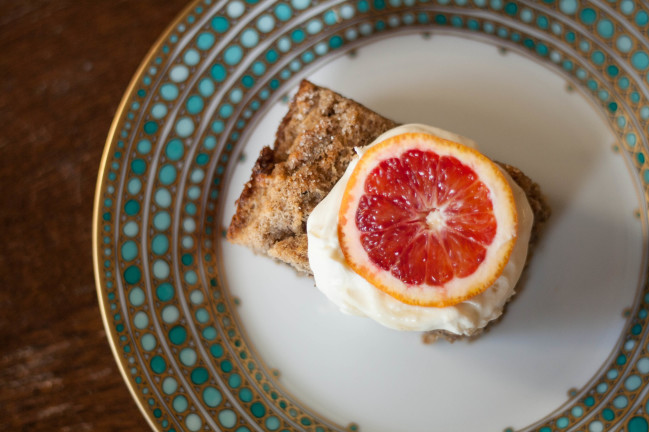 Go ahead, bake this Dense Walnut Cake today and "Let it Snow, Let it Snow, Let it Snow!" The checkout line at the grocery store was so long that I simply shopped from the line yesterday, so I can tell snowpocalypse or snowmagedon must be upon us. We're cozied in and ready to enjoy? a massive Philly snow storm, so we'll definitely need a satisfying treat of some sort to warm up the house and our cold wintery hearts. And when I think about the most wonderful of winter cakes, one of my first thoughts is of this bon appetit recipe, but since it's about as rich as it gets, I've modified the recipe to make it smaller. A full 9×13″ pan of this cake is just a little too much to have around the house unless you have a large party on the way over. Just a little square of this Dense Walnut Cake will perfectly revive you after a winter ski or skate. The cake is not all that sweet, which cements its status securely in Scandinavian baking; we Scandinavians often tend towards fat rather than sugar when it comes to winter treats and this cake certainly follows that path. It's loaded with nut flours (almond and walnut) and plenty of dairy: cream, yogurt and then of course some tart crème fraîche for serving. I assure you the low sugar nature of this cake and its rustic appearance will both surprise and satisfy you. I like to serve it with a slice of blood orange or a candied walnut on top because otherwise its appearance is quite humble. Because of unique nature of this Dense Walnut Cake I'm willing to wager that if you make it once during a snowstorm, it will come to mind from here on out when that first snowflake flies.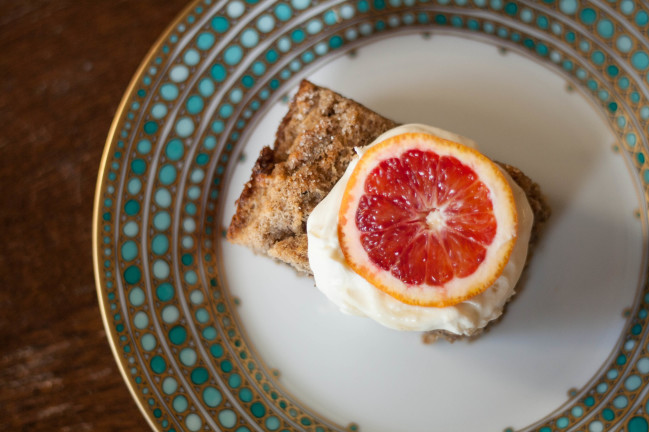 Dense Walnut Cake
2016-01-22 08:53:01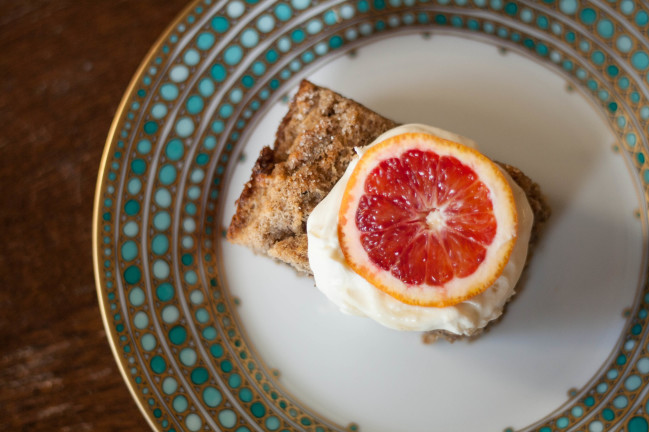 Serves 12
Dense Walnut Cake is a lightly sweetened, densely delicious coffee cake that's perfect for some serious winter weather.
Nutrition Facts
Amount Per Serving
* Percent Daily Values are based on a 2,000 calorie diet. Your Daily Values may be higher or lower depending on your calorie needs.
Ingredients
½ cup (unsalted butter, room temperature, plus more for pan)
6 tablespoons raw sugar, divided
3 ½ cups walnut halves
⅓ cup + 1 tablespoon all-purpose flour
¾ cups almond flour or almond meal
⅓ cup + 1 tablespoon granulated sugar
3 large eggs
⅓ cup + 1 tablespoon cup heavy cream
¼ cup plain whole-milk yogurt
½ teaspoon kosher salt
½ teaspoon vanilla paste
crème fraîche for serving
Instructions
Preheat oven to 350° F.
Butter a 8x8" metal or glass baking dish; sprinkle bottom evenly with 3 tablespoons raw sugar. Set aside.
Pulse walnuts in a food processor until coarsely chopped.
Set 1 cup aside.
Add all-purpose flour to processor and pulse remaining nuts until walnuts are very finely ground. Add almond flour; pulse to blend. Set aside.
Using an electric mixer, beat ½ cup butter and granulated sugar in a large bowl until light and fluffy (2 minutes).
Add eggs, cream, yogurt, vanilla paste, and salt. Beat until well combined.
Add ground-walnut mixture and beat just to blend.
Gently fold in chopped walnuts.
Pour batter into prepared dish; smooth top. Sprinkle with remaining 3 tablespoons raw sugar.
Bake until cooked through and a tester inserted into center comes out clean (40-50 minutes). Let cool in the pan (on top of a wire rack or toaster works best).
Serve with crème fraîche and a slice of preserved walnut (this picture) or blood orange (top picture) on a beautiful place with some good, strong, hot coffee.
Notes
Notes: Can be made 3 days ahead. Cover and chill. Cake is delicious served cold.
Adapted from Bon appetit
Dirty Laundry Kitchen http://www.dirtylaundrykitchen.com/