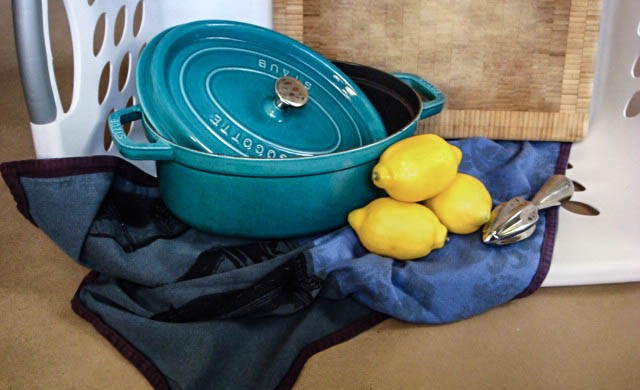 Welcome, to The Dirty Laundry Kitchen, a foray into comfortable, elegant entertaining. We're all about using the good china every day. And real silver on paper napkins. We're about going the extra mile when there's extra time and the company and the mood is right, but also knowing where the shortcuts are if you need to take them. We're about squeezing in one more unexpected guest at the dinner table and making something really special in twenty minutes on a weeknight. We're about cooking for a month for a dinner party that will only last one night. We're about time management and planning what to make ahead versus what must come out moments before the guests arrive. We're about learning, and fun in the kitchen and improvisation. Come on in; I'm excited to share my passion for food, friends and life with you.
What's in a name? The Dirty Laundry name was coined when I graduated from law school and my parents treated my sister and me to dinner at the French Laundry. This dining experience was so instrumental in defining exactly who I wanted to be as a cook and hostess. Even at a meal served on perfectly polished silver by the best-trained American servers, the formality did not divert our attention from OUR party. While the meal was one of the best of my life, the night was still absolutely about me and my guest. It was the many little things that created our superlative experience. Instead of ensuring the table was overwhelmed with the 20 odd pieces of silver we would use, we were encouraged to relax and enjoy – each course was presented with only the necessary tools. The confidence that the French Laundry had in itself came through. It wasn't necessary to remind us constantly that we were in a special place. It shone through each course, each bite, each moment.
While I'm no highly trained chef cooking in a beautiful vineyard in California, I still think to my meal at the French Laundry often as I prepare to entertain my guests in Philadelphia. Urban living means that if you have the luxury of laundry facilities in your own home, it will likely be in the kitchen or the bathroom. Ours happens to be in the kitchen and that circumstance cemented the Dirty Laundry Kitchen's name. I'm so excited to share my brand of enjoying life and food with you.
Please, relax; enjoy; open a great bottle of wine and let's get cooking. This way to the BLOG.