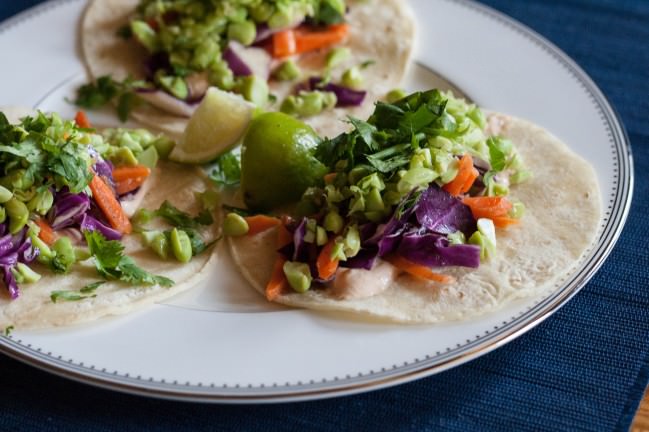 I love these Edamame Tacos with Chipotle Mayo. They came about during my time teaching Public Health Law at the University of Pennsylvania. One of the easiest ways to get lunch at Penn is from food trucks, and many of us eat from the trucks almost every day. So you can imagine how exciting a new truck is. New options, new everything. One of the new trucks that opened while I worked there was called Tyson's Bees. It was Korean Taco fusion and it was really really popular. So popular that sometimes the line was so long that I couldn't wait for tacos, even if I really wanted to. And one of my favorite lunches was their, you guessed it, Edamame Tacos with Chipotle Mayo. They were really simple and good and just enough spice and I realized that I needed to learn to make them myself. So this is my take on Edamame Tacos with Chipotle Mayo inspired by the original Tyson's Bees truck. These Edamame Tacos with Chipotle Mayo, quickly became one of my all-time favorite weekday meals (especially in the summer). They are really quick and easy and light and refreshing. But in our house, we eat them year round particularly because the quality is really consistent throughout the year- the ingredients aren't seasonal. They are also great for weeknights because you can keep the ingredients unassembled in the refrigerator and they're ready to go at a moments notice. Thank you food trucks for your quick inspiration and home cooks, enjoy the Edamame Tacos with Chipotle Mayo.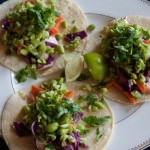 Edamame Tacos with Chipotle May
2015-01-20 10:03:09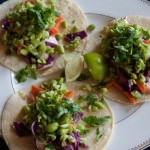 Edamame Tacos with Chipotle Mayo are a light yet satisfying vegetarian taco option that's easy to prepare with store-bought or homemade corn tortillas.
Nutrition Facts
Amount Per Serving
* Percent Daily Values are based on a 2,000 calorie diet. Your Daily Values may be higher or lower depending on your calorie needs.
Chipotle Mayo
¼ cup mayo + 1 tablespoon
¼ cup sour cream
1 whole chipotle
Salad
2 cups shredded carrots
2 cups shredded red cabbage
1 tablespoon vegetable oil
1 tablespoon lime juice
¼ teaspoon salt
black pepper
Tacos
12 ounces frozen shelled edamame
½ cup chopped cilantro for garnish
12 corn tortillas; store-bought or homemade (3 per person is just about right)
lime wedges for serving
Instructions
Bring a small pot of salted water to a boil. Blanch the edamame for a minute. Drain. Run under cool water until you can handle them. Chop roughly. Set aside.
Chop the chipotle very fine.
Mix with the sour cream and mayo in a small bowl. Set aside.
Mix the carrots and cabbage in a medium salad bowl. Dress with oil, lime juice, salt and pepper. Set aside.
Chop the cilantro. Set aside.
In a frying pan on medium low heat, stack the tortillas (I put all of them in at once). Turn them every 30 seconds or so until all of the tortillas have been on the pan surface. Keep rotating them until they're well warmed.
When the tortillas are heated, spread them out on plates.
Put a spoonful of mayo on each one. Top with the salad.
Top with the edamame. Garnish with cilantro and serve with lime wedges. So good. So satisfying. Perfect for the weeknights and easy to make-ahead. Grab a cold beer, or pair it with the Watermelon Saffron Coolers and and dig in.
Dirty Laundry Kitchen http://www.dirtylaundrykitchen.com/