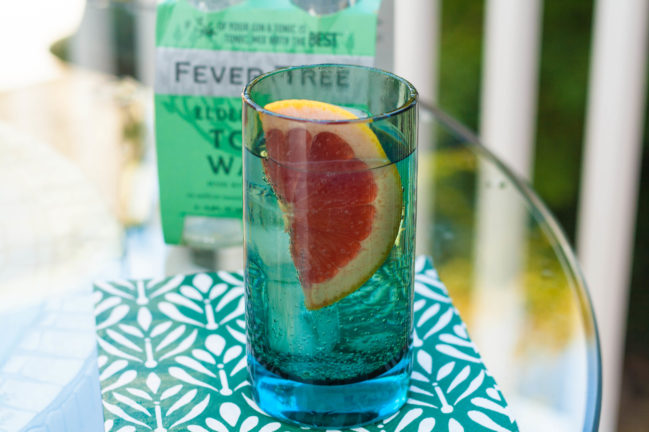 This Grapefruit Gin and Tonic is less of a recipe and more of a public service announcement an unpaid product push. First of all, Happy Friday! As someone who loves Gin and Tonics and LOVES elderflower, I'm a little surprised it took me as long to discover the Fevertree Elderflower Tonic water as it did. But, find it I did, and now my mission is to share it with you. Gin is definitely the liquor that I tend to stock the most different brands because they're all so different. Some are spicy. Some are floral. Probably only because it was the first G&T I ever had, I think of Tanqueray as the ultimate Gin and Tonic Gin. And apparently Gin and Tonics are so perfect just the way they are to me, it hasn't really occurred to me to improvise. Until a couple of weeks ago. I was at Whole Foods shopping for my Juniper Brined Turkey Roast and Gravy, so juniper and elderflower were already on my brain and what did I happen upon, but elderflower tonic water. Obviously it went straight into the grocery cart. I couldn't wait to get it home and test it out. Even while still in the store, it occurred to me that grapefruit would probably be better than lime in terms of pairing with the elderflower tonic water. I love champagne with a little St. Germain and a slice of grapefruit; it's a go-to for me, so next thing I new I was back in the produce section picking out the prettiest pink grapefruit I could find. Of course, just having one wouldn't do. It wouldn't have been responsible to recommend this cocktail without test a few different gins. I can confidently report that the tonic water is distinctive enough that you can easily serve a well gin here and no one will notice. Final bonus: the tonic water turned out to be interesting enough to make itself useful as a mocktail. There's just enough flavor that with a slice of grapefruit, this works well even without the gin. The grapefruit and elderflower are what will shine through in this delicious "twist" on a classic in my Grapefruit Gin and Tonic. Cheers!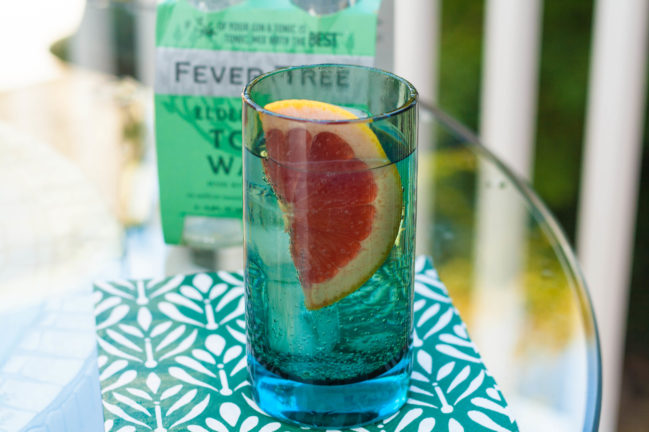 Grapefruit Gin and Tonic
2017-11-10 14:20:00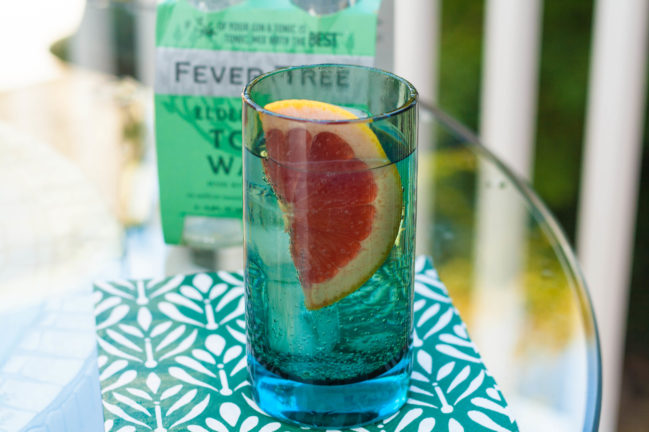 Serves 1
This tart and floral Grapefruit Gin and Tonic is a welcome twist on the classic featuring elderflower tonic water.
Nutrition Facts
Amount Per Serving
* Percent Daily Values are based on a 2,000 calorie diet. Your Daily Values may be higher or lower depending on your calorie needs.
Ingredients
1 bottle fevertree elderflower tonic
1-2 ounces your favorite gin
ice
2 wedges pink grapefruit
Instructions
Chill the tonic ahead of time.
When you're ready to serve, fill a highball with ice.
Add the gin.
Squeeze in one of the grapefruit wedges. Discard.
Top with the tonic. Stir if you wish.
Garnish with the second wedge.
Dirty Laundry Kitchen http://www.dirtylaundrykitchen.com/