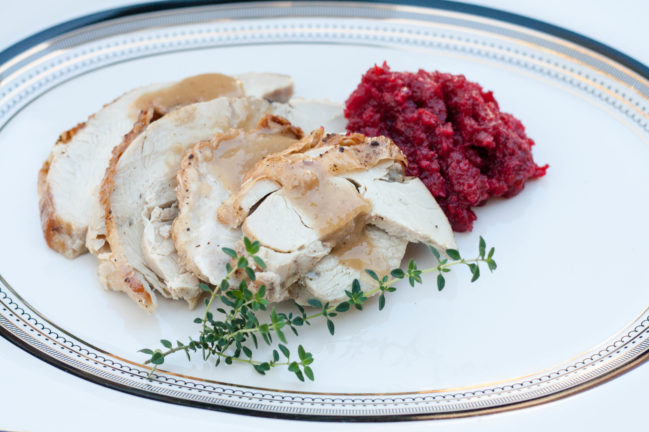 Hello Dirty Laundry Kitchen fans, it's been awhile. I'm really excited to be posting this Juniper Brined Turkey Breast Roast, with time for it to make it's way onto your Thanksgiving menus. Truth told, it's simple and delicious as a plan ahead weeknight dinner, too. The slices from this Juniper Brined Turkey Breast Roast make for some seriously good sandwiches, especially when paired with some homemade cranberry relish. I served leftover slices of it with aged cheddar on cranberry walnut french toast last weekend, so really, the sky is the limit. Let your imagination run wild. For so many reasons, including it's fabulous leftover potential, I think this Juniper Brined Turkey Breast Roast is a great first post after a blogging hiatus. I created this recipe before my daughter entered the world and my life changed in so many ways, so coming back to it, and finding that it still fits into my cooking philosophy is comforting and empowering. I think you'll notice in the coming months that practices, procedures and recipes are going to get even easier here at Dirty Laundry Kitchen. I still fully believe in my mission of comfortable, elegant entertaining. But the addition of a child to my family has definitely updated what that looks like in my own Dirty Laundry Kitchen. Sometimes, there's a lot more dirty laundry than kitchen, so I just have to stick it in a laundry basket in the closet, open a really nice bottle of wine, make a great cheese board, and order takeout to be able to entertain comfortably. So go ahead, break out the fine china but serve pizza, or make this Juniper Brined Turkey Breast Roast instead of a 25 pound turkey. And don't judge yourself for ordering really fancy single use wine glasses on amazon instant. Do what you have to do to enjoy entertaining. That's certainly always been my core mission, but I think it's going to be even more visible in my posts moving forward. In the meantime, consider this Juniper Brined Turkey Breast Roast as the star of your Thanksgiving buffet this year. You won't regret it.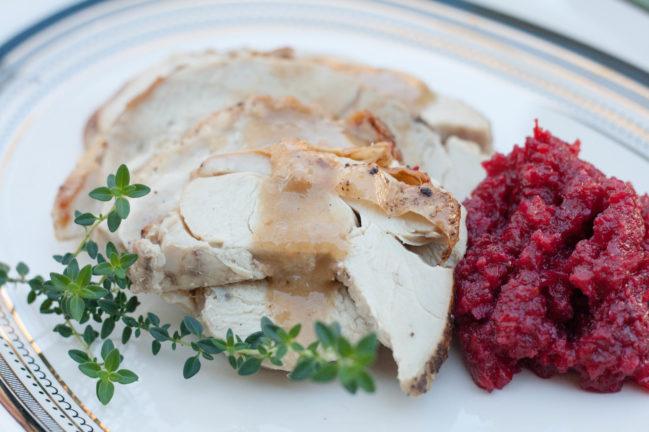 Juniper Brined Turkey Breast Roast
2017-10-30 11:27:36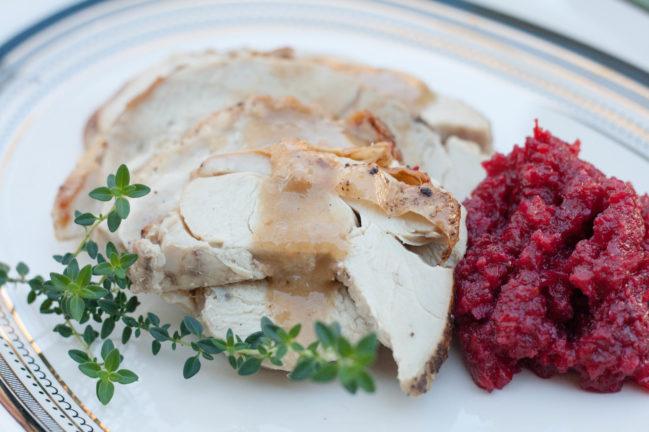 Serves 10
My Juniper Brined Turkey Breast Roast is a quick, easy and herbaceous whole turkey alternative that's large on flavor but small on time and oven space.
Nutrition Facts
Amount Per Serving
* Percent Daily Values are based on a 2,000 calorie diet. Your Daily Values may be higher or lower depending on your calorie needs.
Ingredients
one or two 4-5 pound breast roasts*
⅓ cup coarse sea salt
1 tablespoon juniper berries
1 tablespoon water
Instructions
Place the salt, juniper berries, and water in a food processor and blend until berries and salt make a very fine, damp salt. I often make this in the food processor after the Cranberry Relish and I don't bother cleaning it between. In this case, skip the water. Make sure there's enough moisture that the salt sticks together and doesn't make a big mess of salty powder all over the kitchen. Trust me, I learned this one the hard way.
Rub the roasts down with the salt. You really only need 1-2 tablespoons of the salt per roast. I've done up to three roasts in this amount of salt. Making less juniper salt is tricky though, especially if you have a large food processor, so I don't recommend halving the recipe. I like to store the roasts in large tupperwares in the fridge, but one gallon ziplocs work well too. Leave the roasts in this dry brine overnight or up to 3 days.
When you're ready to roast the turkey, leave some extra time to allow the roasts to come up to room temperature as they cook more evenly if they come out of the fridge 1-2 hours prior to cooking.
Preheat oven to 400° F.
Place the roast in a roasting pan. Cook for 10 minutes and lower the temperature to 350° F.
Cook until the center of the roast reaches an internal temperature of 165° F according to the USDA. (Don't tell, but I don't like to let it get quite this hot).
Remove from the oven and let it rest 10 minutes before you slice it.
Serve with warm Elderflower Turkey Gravy and the rest of my Scandinavian Thanksgiving Dinner.
Notes
*The breast roast is a little bit of a strange cut to ask for. I do have to go to Reading Terminal Market in Philadelphia to find it from a specialty poultry vendor. The extra effort in acquisition is really worth the ease of cooking and serving though. I really recommend this cut.
Dirty Laundry Kitchen http://www.dirtylaundrykitchen.com/