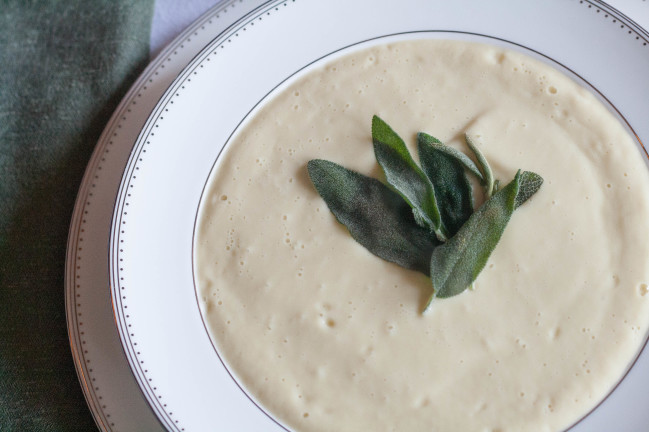 This Leek Soup with Fried Sage is velvety, savory, smooth, and delicious. It's easy to make in the large quantity I have it scaled for in this recipe. This way you can eat what you like and the freeze the leftovers. This Leek Soup with Fried Sage freezes really well, like many soups, for that matter. In fact, I made this soup a couple of weeks before I needed it for my Scandinavian Thanksgiving Menu and simply pulled it out of the freezer and reheated it the day of the feast. I love cooking ahead for big deal meals; it's so helpful for stress management a.k.a. hanging out with your guests drinking Rhubarb Lillet Rose Aquavit Spritzers, which is really what you should be doing anyway when you have a big party, right? The good news is that you can make the garnish ahead of time as well. The pretty green sage provides some visual interest and awesome texture, but this simple soup is still delicious without it if you want to keep it really simple or sage isn't your thing. I think it would be great to try this Leek Soup with Fried Sage with other fried herbs. In fact, I meant to serve it with fried marjoram, which gets used a lot in Scandinavian cooking, but couldn't find the fresh stuff when I needed it. But I loved the fried sage, and that's easy to find anywhere. And let's be frank, you don't need to wait for a special occasion like Thanksgiving to make this simple soup. Leek Soup with Fried Sage is delicious, simple, and great for stocking your freezer for winter.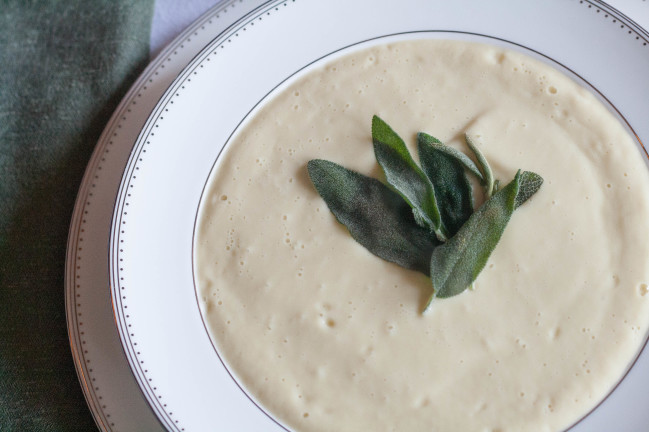 Leek Soup with Fried Sage
2015-10-31 10:23:45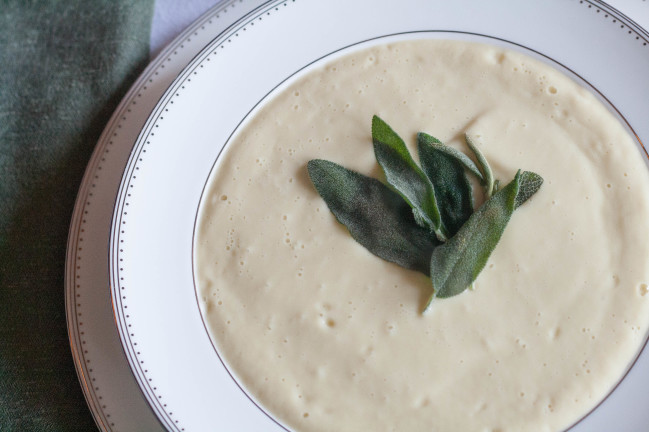 Leek Soup with Fried Sage is a velvety cream-based soup that's easy to make ahead and extra special with the addition of fried sage.
Nutrition Facts
Amount Per Serving
* Percent Daily Values are based on a 2,000 calorie diet. Your Daily Values may be higher or lower depending on your calorie needs.
Ingredients
1 large celery root
2 large russet potatoes
12 leeks
3 large sweet onions
1 cup white wine
4 cups water
¼ cup olive oil
6 cups whole milk
¼ cup cream
1 ½ tablespoons salt
white pepper (optional)
fried sage
bunch of large, lush sage leaves
olive oil
Instructions
Peel the celery root, potatoes, and onions.
Rough chop and place them in a large stockpot.
Thoroughly clean the leeks and rough chop the whites and light greens. Add them to the stockpot as well.
Add the olive oil and turn stove to medium low. Sauté, stirring frequently for 5-10 minutes.
Add the white wine and cook until it evaporates. Add four cups water and bring to a boil.
When the liquid is boiling, cover the pot, reduce heat to low and cook until everything is softened.
Then add two cups of the milk (or more if needed) and purée either in a blender, food processor, or with an immersion blender. Return to stockpot and add the remaining milk. Season to taste with salt and white pepper if you like. When you're ready to serve, stir in the cream.
To make the fried sage leaves (which can be done ahead) wash and thoroughly dry the leaves (for safety sake).
Heat olive oil on medium high until bubbles form on a wooden spoon when submerged in the oil.
Drop the leaves in the oil and let fry for 30-60 seconds (they should still look green but be crunchy). Remove to a paper towel.
Let sit on the towel at room temperature for up to 4 hours (or you're ready to use them).
Serve the soup warm with a few leaves on top.
Dirty Laundry Kitchen http://www.dirtylaundrykitchen.com/