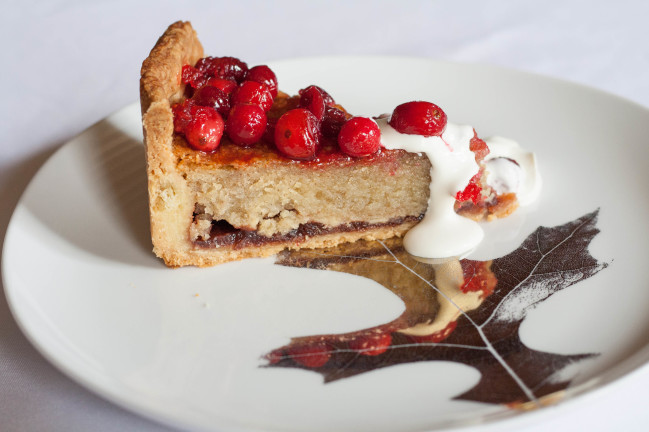 From a technique perspective, this Lingonberry Cardamom Tart is closely based on a Martha Stewart recipe. But I have a confession to make, I've never actually made it according to the original instructions. The second I saw it, I knew it was destined for Swedish Thanksgiving greatness. In so many ways, the original recipe waltzes around so many Scandinavian ingredients and flavors and that was enough to pique my interest right away. In my Lingonberry Cardamom Tart I swap in lingonberries wherever possible. I add in cardamom in enough quantity to make sure it doesn't get lost. And I keep up the rich buttery, almond paste that really makes this dessert feel Swedish to me. I have to admit, anything that requires blind baking, like this Lingonberry Cardamom Tart, I consider to be somewhat of a pain and it better be worth the extra steps. This Lingonberry Cardamom Tart definitely is worth any extra effort. It's as beautiful as it is rich, tart, sweet, spicy, savory and delicious. The cranberries make this Lingonberry Cardamom Tart wonderful as a Thanksgiving, Christmas, or even Valentine's Day dessert and everything else about it will soon make it a family favorite.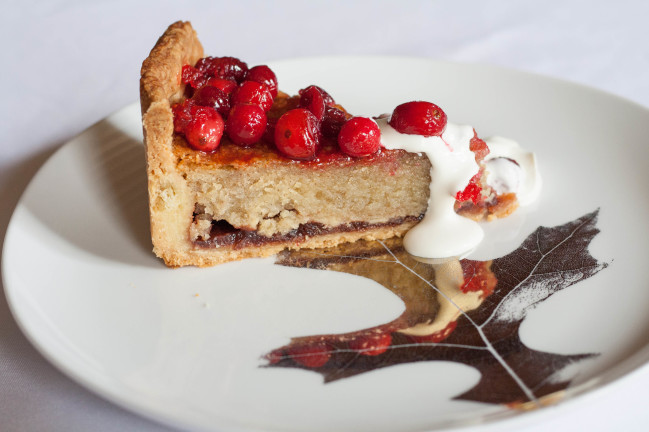 Lingonberry Cardamom Tart
2017-11-16 13:31:16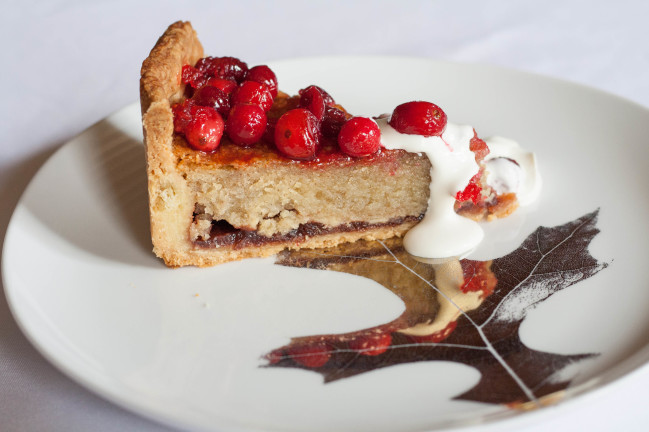 Lingonberry Cardamom Tart is as beautiful as it is rich, tart, sweet, spicy, savory and delicious, which will soon make it a family favorite.
Nutrition Facts
Amount Per Serving
* Percent Daily Values are based on a 2,000 calorie diet. Your Daily Values may be higher or lower depending on your calorie needs.
Ingredients
1 ½ cups (about 5 ounces) fresh cranberries
½ cup plus ⅓ cup granulated sugar, plus more for sprinkling
1 tablespoon water
1 egg white
8 ounces lingonberry jam
10 tablespoons unsalted butter, room temperature
3 large eggs
½ teaspoon pure vanilla extract
6 ounces (about 1 ¼ cups) slivered almonds
½ teaspoon ground cinnamon
½ teaspoon ground cardamom
¼ teaspoon salt
Pâte Sucrée Ingredients
1 ¼ cups all-purpose flour
4 ½ teaspoons granulated sugar
¼ teaspoon salt
1 stick cold unsalted butter, cut into small pieces
1 large egg yolk
2 tablespoons ice water
Instructions
To start, make the pâte sucrée.
Pulse flour, sugar, and salt in a food processor until combined.
Add butter, and process until mixture resembles coarse meal, about 10 seconds.
Lightly beat yolk with ice water.
With processor running, add yolk mixture in a slow, steady stream through the feed tube and process until dough just holds together (no longer than 30 seconds).
Turn out onto a work surface and shape into a disk.
Wrap in plastic, and refrigerate for at least 1 hour (or up to 2 days). In the meantime, fantasize about this.
Put fresh cranberries, ⅓ cup sugar, and the water into a saucepan over medium heat and cook.
Stir to dissolve sugar, until cranberries have just softened. 3-5 minutes.
Remove from heat and cool completely.
On a lightly floured work surface, roll out pâte sucrée dough to a 12-inch circle, ⅛ to ¼ inch thick.
Transfer to an 8-by-2-inch springform pan, pressing crust into bottom and up sides. Trim excess flush with rim. Refrigerate 30 minutes.
Preheat oven to 350° F. Prick tart crust all over with a fork.
Line dough with a parchment round and fill with pie weights (or dried beans).
Bake 10 minutes.
Beat egg white.
Remove weights and parchment and brush crust lightly with egg. Return to oven and bake until pale golden (25 minutes). Reserve remaining egg white.
Let crust cool in pan on a wire rack for 10 minutes.
Raise oven temperature to 375° F.
Spread jam over bottom of tart crust.
Beat butter and remaining ½ cup sugar with a mixer on medium-high speed until pale and fluffy (3 minutes).
Add eggs, 1 at a time, beating well in between. Beat in vanilla.
Reduce speed to medium. Slowly add ground almonds, cinnamon, and salt and beat until just combined.
Spread mixture over jam-covered crust.
Bake tart until filling is set and has darkened slightly (45+ minutes. If top darkens too quickly, cover loosely with foil).
Remove tart from oven, brush top with remaining egg white and sprinkle with sugar. Return to oven, and bake for 5 minutes more.
Let cool on a wire rack for 15 minutes.
To serve, remove from pan and top with candied cranberries. Slice. Add a dollop of crème fraîche to bring it to the next level. And who wouldn't want to do that?
Notes
Easy to spread this recipe out over a couple of days. Make a day ahead if you like. Store on the counter, wrapped. Serve warm or room temperature.
Adapted from Martha Stewart
Dirty Laundry Kitchen http://www.dirtylaundrykitchen.com/