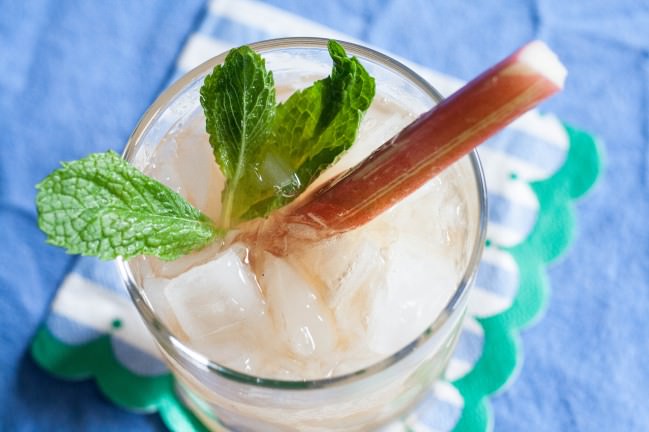 Rhubarb Mint Juleps are just the ticket to take advantage of the fresh rhubarb that's in abundance during the spring as well as take cocktail hour to the next level at the Kentucky Derby Party. I have to admit, there's absolutely nothing traditional about this combination, and rhubarb is not a southern thing at all, so the combo might seem a bit odd, but I am a combination of a Southerner and a Northerner and I reserve the right to mix and match as I so choose. And I love rhubarb in the spring and think it pairs really well with bourbon because rhubarb is really tart, so it pairs well with things that taste naturally sweet. Mint juleps are all about the sweet, so rhubarb provides a nice balance. Note: I came upon a new technique that makes these rhubarb juleps even better, so if you looked at this recipe, or printed it prior to 4/22/15, take another look. It all came about when I was making my Fresh Strawberry Pie with Rhubarb Curd. I made too much of the rhubarb puree and began whisking it into cocktails. Turns out that rhubarb puree preserved the flavor of rhubarb WAY better than simple syrup, so, forget all about that old technique if you read about it before. Is this the best part about cooking? The accidental improvements that are constantly occurring if you just keep cooking often enough? Anyway, now, THESE Rhubarb Mint Juleps really might be the perfect Derby Party drink if you want to try something a little different.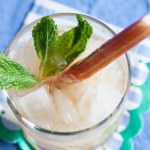 Rhubarb Mint Juleps
2015-01-26 11:09:37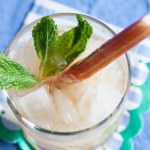 Rhubarb Mint Juleps are just the ticket to take advantage of the fresh rhubarb that's in abundance during the spring and jazz up your Kentucky Derby Party.
Nutrition Facts
Amount Per Serving
* Percent Daily Values are based on a 2,000 calorie diet. Your Daily Values may be higher or lower depending on your calorie needs.
Ingredients
mint sprigs
rhubarb stirring sticks
crushed ice*
bourbon
rhubarb puree
12 ounces rhubarb; rinsed, ends removed and chopped (I used frozen)
¾ cup granulated sugar; divided
2 teaspoons lemon juice
2 tablespoon water
To make the puree
Place rhubarb, sugar, lemon juice, and water in a small sauce pan and cook until completely softened. This doesn't take long, especially if it was frozen. You can add water as needed to keep the rhubarb from sticking to the pan. Puree in a blender, food processor, etc. Let cool.
Fill a cup with crushed ice.
Add 2 ounces of bourbon, ½ tablespoon of mint simple syrup, and 1 tablespoon rhubarb puree to a shaker or glass and stir or mix well. Pour over the crushed ice.
Garnish with a mint sprig and a rhubarb stirring stick. And don't forget that these are really strong, so hold onto your (Derby) Hats!
Or if you're making them for a crowd
You'll need one cup of rhubarb puree mint simple syrup mixture per 64 fluid ounces of bourbon.
A handle is 60 fluid ounces, so you can pour off about a cup of bourbon and reserve for cooking etc.
Then pour ⅓ cup of mint syrup and ⅔ cup rhubarb puree straight into the bottle.
Shake gently and you can now just pour straight from the bottle into the cups of crushed ice. Garnish with mint sprigs and rhubarb stirring sticks.
Notes
*Don't forget that with juleps, ice is the mixer, so don't be stingy, and send out an ice retrieval team as often as necessary if your freezer can't keep up.
Dirty Laundry Kitchen http://www.dirtylaundrykitchen.com/