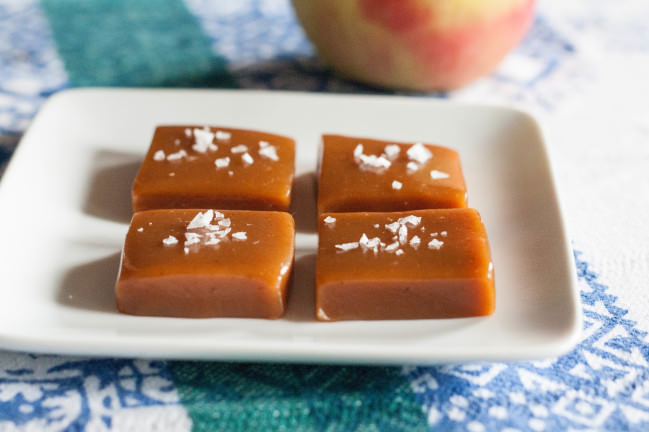 "Seriously Barrett, Sour Cherry Apple Cider Caramels?" I know, I know, I'm always figuring out dishes in which to stick sour cherries, as well as their juice. But it's for good reason- they're that good. Recently, I found one more such dish. I've been making soft caramels as party favors for years, but recently, I've seen lots of recipes for Apple Cider Soft Caramels, which just sounds so deliciously fall. And of course, the topic of apple cider got me thinking about Cherry Cider, and Cherry Apple Cider, (two very different things, I swear) which were prevalent where I grew up. Ruminating about cherry cider necessitated a Fall update for my soft caramel recipe. So here we are, Sour Cherry Apple Cider Caramels. I tested it out with just cherry cider, and frankly it was a bit too much, but this blend hints at cherry. In fact, it kind of plays with your mind and has you wondering what you're tasting until boom, you know it's cherries. "It sounds delicious Barrett, but a candy thermometer, that sounds technical?" This is a very forgiving foray into caramel making, so don't let the thermometer intimidate you. And dive right into the delicious world of caramel making with these Sour Cherry Apple Cider Caramels.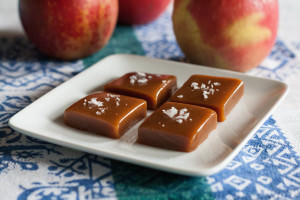 Sour Cherry Apple Cider Caramels
2014-10-25 05:13:57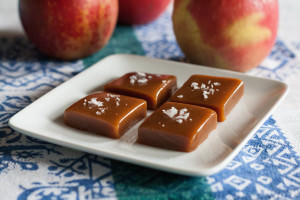 Nutrition Facts
Amount Per Serving
* Percent Daily Values are based on a 2,000 calorie diet. Your Daily Values may be higher or lower depending on your calorie needs.
Ingredients
1 quart apple cider
1 cup sour cherry juice
3 inch piece of ginger; peeled and sliced thin
1 cup granulated sugar
½ cup brown sugar
4 ounces butter (1 stick)
2 cups heavy whipping cream
1 teaspoon vanilla
1 teaspoon sea salt
¾ teaspoon cinnamon
¼ teaspoon cardamom
You'll also need
waxed paper
candy thermometer
Instructions
Bring the apple cider and sour cherry juice to a boil in a heavy weight pot (if you can't find cherry, cranberry works well too; just make sure it's juice, not cocktail). I like to use a 4 quart soup pot that is stainless. The light colored bottom makes it easier to check on my progress. Peel and slice the ginger.
Dirty Laundry Kitchen http://www.dirtylaundrykitchen.com/