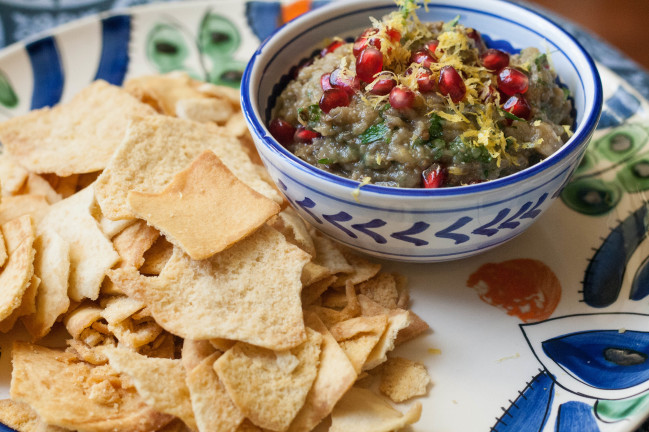 Ok, you got me, this Baba Ganoush via Jerusalem isn't strictly Baba Ganoush. The flavor profile is really different with the lack of tomatoes and onions in the eggplant base. That said, the title that Jerusalem chooses (Charred Eggplant Salad with…), just distracts me from the fact that this is, at least to me, a gussied up and very modern take on the classic dish. I love this Baba Ganoush via Jerusalem for so many reasons, perhaps best of all is the brilliant choice to add pomegranate kernals to the mix. In winter, the bright ruby jewels are a welcome sight contrasted with the bright lemon zest and intensely green herbs. As the kernals explode in your mouth with little bursts of tart juice, they contrast the smokey, salty, garlicky goodness of the eggplant. This is a dish where skimping on the olive oil both in quantity and quality isn't the way to go. It adds so much body and flavor to the Baba Ganoush via Jerusalem that you should consider it carefully as an ingredient. I think I try a different olive oil every time I make this dish, and I still haven't settled upon my favorite. It's a fun exercise in olive oil tasting to see how much it can impact the way you taste a dish like this Baba Ganoush via Jerusalem. No matter which you choose though, Baba Ganoush via Jerusalem is a great way to get your party started for a Jerusalem Cookbook Dinner Party, or any other.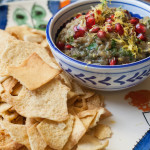 Baba Ganoush via Jerusalem
2014-12-11 20:40:28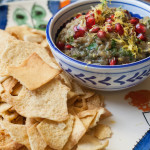 Serves 4
Baba Ganoush via Jerusalem is a modern take on the classic eggplant salad with lemon zest, pomegranate kernals and lots of fresh mint and parsley.
Nutrition Facts
Amount Per Serving
* Percent Daily Values are based on a 2,000 calorie diet. Your Daily Values may be higher or lower depending on your calorie needs.
Ingredients
2 large eggplants
2 cloves garlic; crushed
Grated zest of 1 lemon; reserve a pinch for garnish
2 tablespoons freshly squeezed lemon juice
3+ tablespoons olive oil (you can always add more at the final taste)
2 tablespoons flat-leaf parsley; chopped
2 tablespoons mint; chopped
seeds of ½ large pomegranate (here's how to extract them easily)
pinch of salt and freshly ground black pepper
fresh pita or pita chips for serving
Instructions
Score the eggplants with a knife in a few places, about ¾- inch deep and place on a lined baking sheet under the broiler for about an hour.
Turn every 20 minutes or so (they will wilt, blacken and burst- this is good).
Remove eggplants from oven and allow them to cool.
Once cool enough to handle, peel off the skin and discard.
Drain the flesh in a colander (60 + minutes) to get rid of the water. When I'm in a rush, I pulse the flesh in a blender or food processor just a couple of times before I drain it because it aids the process.
In a lovely serving bowl, add garlic, lemon zest and juice, olive oil, ½ teaspoon sea salt, and a good grind of black pepper.
Stir and allow the eggplant to marinate at room temperature for at least an hour.
Just before serving, mix in the herbs and taste for seasoning.
Top with the beautiful pomegranate kernels and garnish with the remaining zest.
Notes
I also love garnishing with orange zest instead, but keep the lemon juice in the main recipe.
Dirty Laundry Kitchen http://www.dirtylaundrykitchen.com/