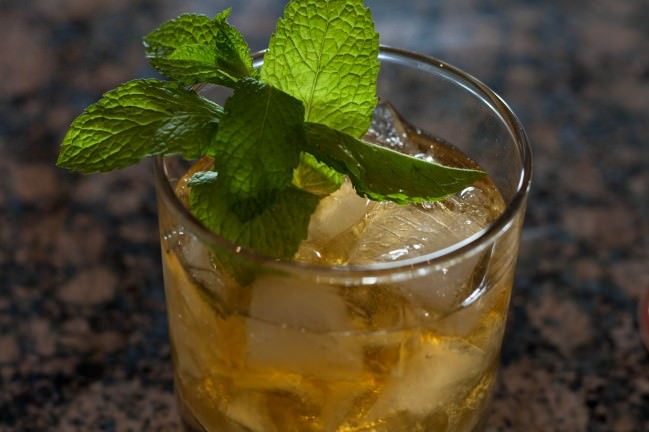 In recent years I've spent first Saturday in May at my friend Anna's Kentucky Derby party drinking way too many, but never enough Mint Juleps! The party gets bigger every year, and last year it migrated to one of the boat houses on the Schuylkill River and was hosted by three Kentucky natives. The dark walnut paneled dining room was draped in old lace and crystal and silver julep cups full of blood red roses were scattered throughout the rooms providing the perfect backdrop for a truly amazing party. The old building has a wrap around porch and a view of the river as well as a huge lawn for croquet, corn hole and lots of dapper gentlemen and hat wearing ladies to stroll about the grounds. I've always loved the Kentucky Derby. Perhaps this love comes from my romanticized nostalgia for the South, or my love of hats; I'm not sure. I have a full Derby Party Menu full of great ideas for how you can get the most out of your party if I've managed to encourage you to throw a little shindig of your own. The recipes are quite simple and you get to wear a big hat. We'll start with the most obvious and also the most important, the traditional cocktail: Mint Juleps! including homemade mint simple syrup. The thing to remember about mint juleps (and many Southern drinks for that matter) is that the mixer is ice. It's hot. You're going to be outside all day. You need a hat and lots of ice. And a mint sprig. And now you have all my secrets on Derby watching and how Mint Juleps! will keep you refreshed as you cheer for your horse.
Mint Juleps!
2015-04-27 12:16:04
Serves 1
Mint Juleps! a classic recipe for a classic Kentucky Derby Party featuring fresh mint simple syrup, lots of crushed ice, and bourbon, of course!
Nutrition Facts
Amount Per Serving
* Percent Daily Values are based on a 2,000 calorie diet. Your Daily Values may be higher or lower depending on your calorie needs.
Ingredients
crushed ice
Bourbon
Mint sprigs
Mint Juleps! for a crowd
one cup mint simple syrup per 64 fluid ounces of bourbon*
Lots of crushed ice
Instructions
Fill a cup with crushed ice. Add 2 ounces of bourbon and 1 tablespoon of simple syrup. Garnish with a mint sprig.
Notes
*A handle is 60 fluid ounces, so you can pour off about a cup of bourbon and reserve for cooking etc. and pour a light cup of simple syrup straight into the bottle. Shake gently and you can now just pour straight from the bottle into the cups of crushed ice. You're going to need a LOT of mint!
Dirty Laundry Kitchen http://www.dirtylaundrykitchen.com/